Many journal, on-line articles and other sources offer opinions regarding what are the "best" and most accurate semi-automatic handguns.  As you might expect, a custom-built handgun is typically designed to be most accurate. However, unless you are seriously competitive, many off-the-shelf guns are worth looking into.
A competitive shooter should be skilled enough to shoot a 6″ to 8″ grouping at 50 yards, and for self defense, it is a good idea to practice to this level of accuracy. As we discuss below, the type and design of gun as well as the ammunition are the salient factors, along with practice at the range. We will first discuss guns that are available with a reputation for accuracy. We will then discuss factors relating to ammunition.

When we are talking about accuracy, you don't have to be a competitive shooter to appreciate the value of a good gun. Before we get started, let's share the name of a man who is a legend among shooters. He holds many records over his 35 years of competitive shooting. He is not only deadly accurate, he is incredibly fast.   Jerry Miculek is so good, Smith & Wesson has modeled a gun for him, The Jerry Miculek Signature Model." His Slavic name is pronounced "Mitch'-ooh-lek".
The latest Miculek hype can be seen in the following video where he uses his signature 8-shot 9mm revolver with 6.5″ barrel revolver and Hornady ammo (147 grain). Using a Vortex red dot sight to hit a steel plate at 1,000 yards, he manages to break the target balloon with the resulting bullet splatter. This is truly impressive shooting.

---
---
First Steps to Understand Accuracy
Quality of Manufacture
Optimal handgun accuracy can be obtained by following a few guidelines. First of all, make sure that you are seeking what is termed as a "match grade" handgun. These are milled to 1,000 of an inch, which is 15 times closer than the cheaper handguns available on the market. Many people prefer semi-automatic guns, which are somewhat less expensive.

Barrel Length
While barrel length matters to improve the accuracy of your aim, do not rely on length alone. It is true that a sub-nose has less accuracy than a six-inch barrel, but other features of the gun matter as well. Once a gun extends beyond about eight inches, the length can actually hinder aiming, and without good and steady sighting, accuracy is impossible.
Longer barrels can impede accuracy if the weight affects its handling
---
The Most Accurate .22-caliber Semi-automatic Handguns
Many models of .22 caliber pistols provide a good way to practice. They have low recoil, or kickback, and the ammunition is inexpensive. Due to their low relative weight, they also will not cause a lot of fatigue after multiple reloadings at the range. They are by far the best way to learn pistol shooting. The guns themselves can also be low-priced, although there is a wide range of available .22 target pistols, ranging from as low as $400 to as high as $2,000 for those who are into serious competition.
Most experts agree that the .22 caliber is not highly recommended for personal defense. However, when up close, they can have sufficient stopping power if you use high-power ammo, especially hollow point. Increasing their appeal is the low recoil that allows a number of quality shots on-target and in fast order. If you can quickly get a series of shots that hit accurately in the forehead or chest, there are many .22 caliber handguns that will shoot a two inch group at 50 yards.
The most accurate .22 caliber handguns, excluding the purely competitive "match handguns" that are not made for ordinary self defense, are presented here in alphabetical order:

Browning Buckmark

Colt Woodsman

High Standard Supermatic Tournament – Great, but costly

Ruger Mark III  [Spoiler Alert –

We think this is the best you will find at its price point.]
---
Browning Buck Mark: Looks great with a good, balanced feel with good size and weight. It is easy to clean and maintain, but has limited add-ons. A great target pistol for about $500. The rear sight permits minute adjustments.

Browning Buck Mark
---
Colt Woodsman: Designed as a hunting gun, it is accurate and attractive. They are no longer made, but are readily available in the secondary market. Price varies.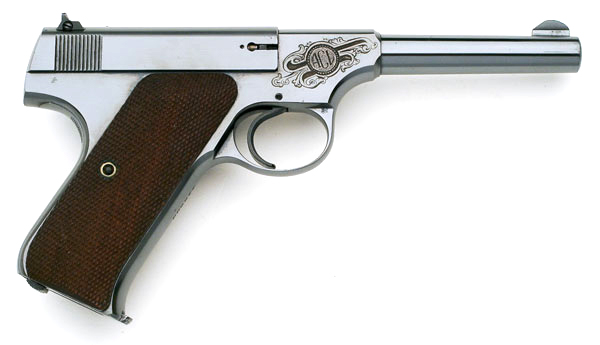 Colt Woodsman Sport .22
---
High Standard Supermatic Tournament, Citation or Trophy: Probably the best .22 target pistol. Hi-Standard's retail price of $925 is a lot more than average for a pistol. The barrel is longer and it weighs almost a pound more than its competitors.

The High Standard Supermatic Tournament
---
Ruger Mark III: Overall, the best target pistol, with lots of safety features and loads of 3rd-party add-ons for the rail.  The only downside is that some models look like a Nazi Luger, since that is what the original designs was modeled after. The most current model is not markedly different in accuracy than the Mark II. This is an autoloading ('blowback') operated pistol that has a 10-round magazine. The Ruger Mark III pistols come in several models including the standard, a target and government-target variety (with a heavier barrel and built-in laser sights), and a competition, hunter and the 22/45 models. $500 to $600.


The Ruger Mark III model 512 in stainless steel
The Ruger Mark III is among the best gun for target practice for many reasons, including its safety features, its great looks and feel, its high accuracy, and the availability of many 3rd-party add-ons. It also includes a standard rail for red dot sights or telescopic sights. It is available in several models, including a target model that has a heavier barrel to limit overheating, reduce recoil, and increase accuracy. The Threaded Barrel models are very similar in configuration and include a threaded barrel for the addition of a compensator or suppressor. Additionally, some Mark III pistols have adjustable sights, and all are drilled and tapped for a Weaver-style scope base which ships with the pistol.
It is beyond the scope of this article, but of course red dots, like those from Vortex can help with your aim over certain distance. There are many Red Dot scopes for the Ruger Mark II and Mark III, including:
Ultradot matchdot

C-More

Gander Mountain Tru Glow

Aimpoint Micro R-1

Millet red dot SP

Burris Fastfire II

Vortex Strikefire

The Ruger Mark III, blued alloy-steel, with rail supports red dot sights
This gun has a few downsides including some over-the-top safety features. There is a magazine disconnect that prevents the pistol from being fired with the magazine removed from the pistol, and there is an internal safety lock that allows you to use a key to lock the safety in the "safe" position. It also features a loaded chamber indicator, letting you see from the left side whether the magazine is loaded. It has an associated magazine disconnect that does not allow it to be fired when a magazine is not present.
Although these features make it very secure, they also make it more complex than necessary. It is also a difficult gun to learn how to properly clean. It is recommended that you have a gunsmith teach you how to field strip it, which is not particularly easy, and should not be attempted without proper instruction.
As we discuss below, it also has a propensity for jamming if you use ammunition that is not at least 40 grain. Guns that require specific types of ammunition are known as fussy eaters, and this one simply demands 40 grain bullets for enough force to eject spent shells and properly reload.
---
If you are interested in other range-specific .22 caliber handguns to consider, the best are listed here:
Beretta Ne:
Very High-tech look, but watch for the recoil, and it's not made in America.
---
Olympic I.S.U.:
 High Standard Model 107 Olympic ISU
---
Walther GSP: This target pistol is among the most expensive .22 target pistols at over $2,000. You would, however, get what you pay for.

The Walther GSP is. They have futuristic design elements

---
 The Most Accurate 9 mm Semi-automatic Handguns
As a stronger gun than a .22-caliber, but easier to handle than the .45 ACP, the following 9mm semi-automatic handguns are known for their accuracy.
Sig Sauer P210, Legend, Legend Target and Legend Super Target: Claimed to be the world's most accurate handgun. New ones are at least $3,500 and used ones start around $2,000.

Sig Sauer P210, Legend, Legend Target and Legend Super Target
---
CZ 75: The CZ is a Czech product (Ceska Zbrojovka) that makes a highly accurate weapon for under $800.

The CZ 75
---
The Sig P250:  The Sig Sauer 2SUM is available in 9 mm and 40 caliber. While not match grade semi-automatic, it is a very accurate handgun.  An interchangeable parts kits makes this two guns!  $725.

---
The Most Accurate .45 caliber Semi-automatic Handguns
Many experts recommend the following .45 caliber semi-automatic handguns for their accuracy.  In the .45 caliber, many people prefer custom-designed 1911 models, using specialized parts like the Caspian frame and jeweled triggers. The following semi-automatic .45 pistols are commercially-available. There are multiple sources on the Internet for custom builds.

Kimber Gold Match II Stainless: This is a remarkable match grade .45 caliber, with adjustable trigger, on par with the custom built semi-automatic handguns. It costs about $1,600.
The Kimber Gold Match II in Stainless Steel

---
Colt Gold Cup .45 national match –The Colt Gold Cup is known as the finest shooting semi-automatic 1911 model .45-caliber in the world, and is considered the standard for competitive guns. Pricing is around $1,200.

The Colt 1911, Series 80, Mark IV, Gold Cup, National Match
---
Smith & Wesson 945 match – .45 caliber

---
CZ-97B: A true "match grade" semi-automatic, the CZ makes great handguns and the cost is only $707
The CZ 97 B is the big-bore brother to the 75 B.
---
Heckler and Koch (German) HK Mark 23: A match-grade pistol, this gun is similar to the model made for the U.S. government Special Operations Forces. It is capable of making a 2-inch group at 25 yards. Around $2,250, but high-quality and highly-respected.

---
Other Calibers of High-Accuracy Semi-automatic Handguns

Remington XP-100. This .221 caliber model is claimed to be able shoot 3/8″ groups at 100 yards with telescopic sight.
This experimental model is both unique and fun to shoot.
---
 Smith & Wesson Model 52: This .38 caliber model has a used sale price around $1,500.
Though discontinued, this model can still be found on the used market.
---
Wilson Combat Supergrade: Wilson Combat makes these available in multiple calibers including .45 ACP, 10 mm, .40 S&W, .38 Super, and 9 mm at a super high price, starting at $5,200.
Wilson Combat makes a beautiful Super Grade gun
---
Magnum Research Desert Eagle, .50 AE: This 50 caliber monster sells for $1,600.
---
Smith & Wesson Model 500: The .50 caliber S&W Magnum is the most powerful production revolver on the market today! At a whopping 72.5 oz., and 2600 ft./lb. Muzzle Energy, it is not for the weak-of-heart. In 2003, S&W ushered in the era of the "big gun." For ultimate power and velocity, nothing comes close to this X-Frame model handgun. A relative bargain at $1,369.

Dirty Harry's 44 Magnum is no longer the most powerful handgun in the world.
---
Note: If you have other recommendations for high accuracy handguns, please e-mail the address at the upper left and let us know.

---
Ammunition
As we said above, a quality handgun is only part of the battle. The second consideration is the ammunition you are using. Ammo can make the difference, and you will need to test a few different manufacturers for your specific handgun model. Using a bench rest helps to fix the pistol's aim so that the only factor would be the ammo.
Ammunition affects the accuracy and range of handguns
If you are shooting at a range for the fun of it, and cost matters, use whatever is cheap. But if you want to hit the bulls-eye consistently, and want to to develop muscle-memory that you can rely on in high-pressure situations, higher-quality ammo makes a difference. Additionally, the  more expensive ammo will have fewer duds or "flyers," which is not only bad during target competitions, it can be deadly in an emergency defensive situation. Remember the old adage, "You get what you pay for!" Make sure the quality of your defensive-carry ammo is as high as possible. Most people prefer high-power rounds for their stopping power, as well.

However, just because ammo is expensive doesn't mean it is automatically what you really need. When testing ammo, be aware that each brand and type has different characteristics at varying distances. You will note a difference between 25 and 50 yards with regard to accuracy. Some low velocity ammo may not do well at 50 yards, regardless of the price. The video of Mr. Miculek above shows him using a very expensive and powerful Hornady ammo that contains a whopping 147 grains. He could never have hit his target at 1000 yards with a weaker alternative.

---
Example Ammunition Test
For reference, the following reflects actual testing of what we indicated above is one of the best off-the-shelf target pistols on the market, the Ruger® Mark III Target Rimfire Pistol. The Ruger Mark III is a .22 long rifle semi-automatic pistol manufactured by Sturm, Ruger & Company. The Mark III is available in different configurations and weigh only from 31 to 45 ounces, and the barrels range from 4.75 to 6.88 inches. They are cost-effective, retailing for between $350 and $500.
The Ruger Mark III Target Pistol has a 5.5-inch barrel and weighs about 42 ounces. It has a list price of around $459 to $569, ranging from steel to blued finishing. It is an amazing .22-caliber handgun and is the most current incarnation of the Ruger, which has been a mainstay for 65 years.  With a little practice and with a steady hand, you can peg the bulls-eye at 50 yards.
The Ruger Mark III, Checkered Wood Grip, Blued, Alloy-Steel $509
During testing, we recommend using a bench rest and firing at 50 feet and at 25 and 50 yards. There is a limit to the distance you can fire these weapons. With .22 caliber long rifle (LR) ammo, an expert can aim a pistol with iron sights and be deadly accurate at 100 yards. However, the maximum effective accuracy for the caliber is limited by limited powder grain in the cartridge. It has been said that shooting a pistol at 100 yards is like lobbing a cannonball, "you must account for Kentucky windage and a two foot bullet caliber  drop."

Even telescopic sights won't compensate for low-power and low-caliber bullets
.22 Caliber Ammunition Tested
Remington 22 target (8 cents per round) provided excellent results at all distances, and was exceptional at at 50 yards, able to get 90 percent hits with tight grouping on a six inch target and one-inch grouping is easy at 25 yards.
Winchester 22 Super X (7 cents per round) was promising up to 25 yards, with multiple bulls-eyes and over 50 percent of the hits were in a 3 inch group.  The ammunition lost its consistency at 50 yards.
CCI Mini Mag (7.5 cents per round) was great at all distances, with bullet-over-bullet bulls-eyes up to 25 yards.

Remember that all handguns tend to have their own unique appetite for ammo.  Test your own weapon with different ammunition to determine which gives you the tightest groupings.
Ammunition Jamming
If you are going to spend time at a range practicing with a target pistol, it behooves you t0 take the time to gain basic knowledge of the internal mechanisms. Semi-automatic handguns, and especially .22 calibers, have a propensity to jam.  If you have an issue with jamming, you should first presume that the issue may be due to the ammunition. 95-percent of the time, the issue is not with the handgun and will be readily remedied by moving to higher-grain ammo (along with proper lubrication).  We like the Remington 40 grain for that reason alone.

P.S. If you know of a good Ruger Mark III ammo that is not listed above, please e-mail us so that we can test it too!